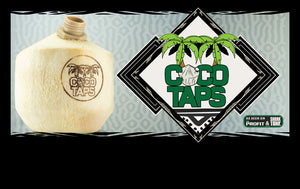 Our Mission
Coco Taps mission is to provide eco-friendly products while regenerating and revitalizing ecosystems one coconut at a time.
Coco Taps cuts the carbon footprint of traditional pasteurized and packaged coconut water by eliminating wasteful cartons, cans, and plastic bottles that can end up in our ocean and landfills. Many people have never had the opportunity to tap their thirst from a fresh tapped coconut, let alone enjoy the advantages of coconut water!
Made in the USA
The Cocotaps System is 100% sourced and assembled here in the USA. Not only does our system solve a major problem within a multi-billion dollar industry, this is a product that you can feel good about purchasing, as it supports healthy eating, safety, and our economy.
Great Taste, Zero Waste
Drinking the coconut water straight from Mother Nature's packaging is Ocean Safe. The coconut water also doesn't need to be pasteurized which removes important nutrients and ruins the taste. This makes the all-natural coconut water great for the environment and better for you too!
Healthy & Hydrating
Coconuts are rich in vitamins and minerals which make coconut water a great natural replacement for sports drinks. Coconut water has also been known to combat hangovers due to its hydrating qualities.
How We Started
One summer day, while trying to open a coconut with a knife and hammer, our founder Coco Vinny broke his stepdad's expensive knife and almost cut off his pinky! He knew there had to be a better way!
After lots of research, he realized there was nothing on the market offering a way to turn a coconut into a drinkable & resealable container. That's how Coco Taps was born!
What does it mean to be
Zero Waste?
Coco Taps is a certified TRUE Zero Waste production facility in Las Vegas. They divert 90% of their packaging and office waste from landfills.
Our taps and caps are made out of 100% ocean safe, home compostable corn maize material so enjoying a coconut with Coco Taps is truly a zero-waste beverage experience!
Learn more
Wholesale & Distribution
Our Coco Taps Industry Licence is perfect for those wanting to distribute Coco Taps coconuts to resorts, beach clubs, and juice bars in their area. Coco Taps coconuts are a unique beverage to offer clients. "No Mess, No Stress" is our motto, and with our system set up, you can make tapped coconuts in minutes, giving your customers the benefits of healthy, natural coconut water! Click here to learn more.